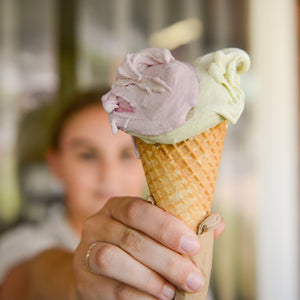 TAKE HOME A TUB of some deliciously different, 100% natural, The Pines Gelato. The Pines Gelato is handcrafted fresh from the lush green paddocks of Kiama on the south coast of NSW. From field to production takes only 13 minutes.....you cannot get any fresher than that! The taste is clean and fresh and the flavours are truly amazing. 
*PLEASE NOTE THAT ALL FLAVOURS ARE SUBJECT TO CHANGE & AVAILABILITY. 
We pack our Pines Gelato in 500ml take home biodegradable BIOGEL packs - making it an all round winner. Our planet & tummies will be grateful!!
The Pines Sorbet is also available in 3 fruity flavours and is vegan, dairy & gluten free.
Waffle cones are also available for purchase.
NB - OUR TAKE HOME TUBS ARE AVAILABLE FOR CLICK & COLLECT OR LOCAL (KANGAROO VALLEY) DELIVERY ONLY.