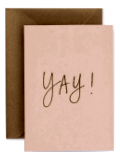 Gabrielle Celine gift card collection offers a beautiful sentiment for every occasion. The power of a handwritten message can make a wonderful difference.
Luxe gift cards in a stunning colour range with an exquisite hand scripted message, locally inspired and made in our beautiful Kangaroo Valley.
Blank inside for you to create your own message.
Made in Kangaroo Valley.
NB - Card colour may vary.