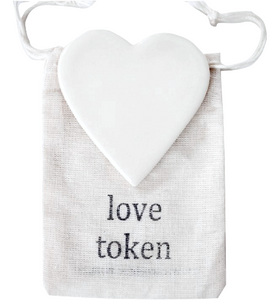 LOVE TOKEN
A gorgeous way to share a sweet message. This little ceramic heart makes for a treasured keepsake. 
Ceramic tag made from earthenware clay fired twice and complete with a glossy glaze.
Includes cotton twine for tying or hanging. Handwrite a personalised message on the unglazed side of the tag using a felt pen.
Comes with its own drawstring pouch.

Handmade in SE Qld, Australia.

Size - 6cm.